Since around last decade I have seen the women fighting for their rights and now that struggle of gaining the rights have moved into the world of technology with campaigns launched on a world wide scale over the Internet. Thanks to twitter and facebook for such social networks where one can spread a word. But my real question to all the young ladies out there are, what are they actually fighting for?
The world is divided into continents, and every continent rather I should say every piece of land on earth has a different society, culture and set of rules to follow. One thinks a woman wearing a short skirt and a bikini is not a big deal. On the other side of the world, it's considered a sin and in France a Muslim girl cannot even wear a scarf but a Christian nun can do so. So what are the actual women rights? Are they fighting for the dressing? If we come out of the dressing chaos then there are talks about the working women. Similarly as I mentioned earlier, in some parts of the world women are free to work but in some area, men respect women and don't want them to work and do the hard work of life. But generally it is considered in the negative way and is misquoted as 'Men are being rude' or 'Men is the enemy of Women's freedom'.
The first thing we need to understand is the difference of society and culture, then debate on the rights. Why on Earth 'we', Muslim, world are fighting for the rights for women when the status of women is highly defined in our religion and which is not debatable. Did anyone ever try to find out who started this FIGHT for so called 'women rights'? In the part of the world where I live, my heaven lies under my mother's feet. My life is with my sister, my stability is with my wife and my future is with my daughter. How can someone who lives in this part can even say that women are not given rights? In Islamic laws, women receives 1/3rd of the property after her parents. Isn't this bad? No! Because she also receives the full property from her husband and has the right on the property of her children as well. So its not just 1/3rd, rather its far more than a man gets in a will.
In a culture where 'Munni Badnaam Hoi' and 'Sheila Ki Jawani' from bollywood is prevailing and a TV anchors like Mathira doing the 'Guchi Guchi Gu' in the most seductive way. TV drama serials where our mothers, wives and daughters are taught to play politics in their in-laws and where older women relationship with a younger boys and vise-versa are becoming the only stories for our drama serials. Under the influence of this culture a women is fighting for her rights? What rights are you talking about?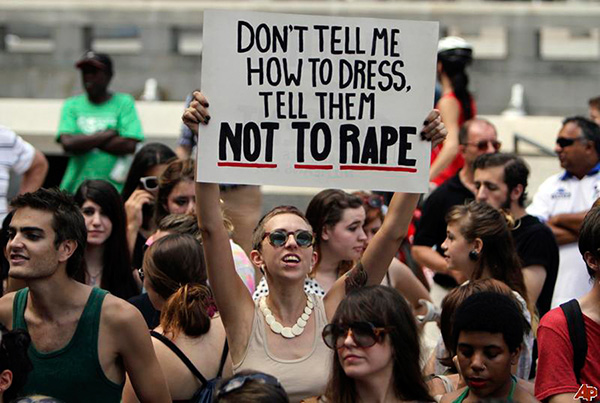 Few days back, I saw some pictures of a protest, shared by a friend on Facebook in which a girl was holding up some banners saying "Don't tell me how to dress, tell them not to rape". For God sake, what kind of protest and women rights are these? So what women are saying indirectly is, 'Let me walk naked but don't f*** me'? This is extremely stupid of women then if they are saying this. Women are provoking men to be like that and then holding men responsible for that. In Islam it is said that women will be the most in hell at the day of judgement. I guess I made my point very clear by this point now. Women are respectable in every relation but not the way they are heading towards. A women in Hijab will always be respected and a man will look at her in a totally different was as compared to the one in sleeveless shirt and shorts.
So from where this 'Women Rights' protest actually came from? In short, it came from the west. Why? The western cultured woman had insecurities of her life, that is why she started the fight for women rights. The women is not respected the way we Eastern do. While I was writing this article, I quickly Googled 'Rape Ratio in World' and I came across some websites and I would like to share that.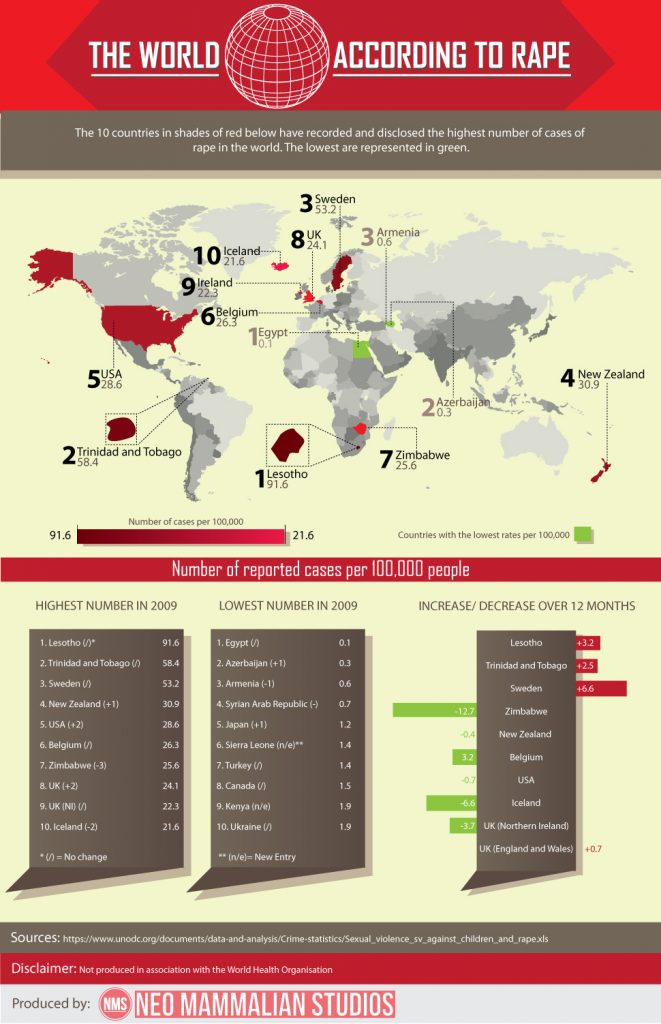 Please tell me if you can find any Muslim country in even the top 20 among the rape statistics of the world? This is what the world is saying, not me. Divorce ratio is above 60% there, not in our Muslim counties. Marriage culture is dying there, not here. I hope now it became clear to you that these shout about 'Women Rights' is their, not ours. And stop making issues of one bad fish which exists in every society if she had done something wrong.