In the heart of the countryside, where the horizon is painted with fields of green and gold, there lies more than just crops and soil. There's a story, a philosophy, a way of life that has, for centuries, offered profound insights into the journey of entrepreneurship and the rhythm of life. Think like a farmer! This article delves deep into the lessons we can draw from farming, weaving in research, statistics, and real-life examples to present a compelling narrative tailored for you.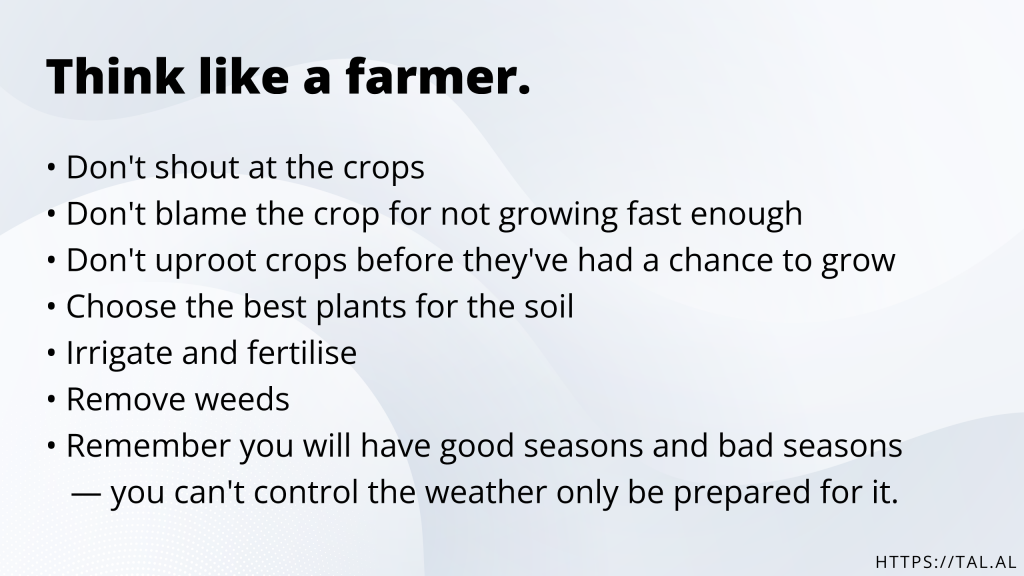 Think Like A Farmer
1. The Virtue of Patience
Every farmer knows that after sowing seeds, there's a waiting period—a time of anticipation. Crops don't sprout overnight. According to a study by the U.S. Department of Agriculture, certain crops like corn can take 60 to 100 days from planting to harvesting. This mirrors the world of entrepreneurship. A startup, for instance, takes an average of 3-5 years to become profitable, as per the Small Business Administration. Just as a farmer waits patiently for the crops to grow, entrepreneurs must understand that success is a gradual process, often requiring years of dedication.
2. The Power of Adaptability
Climate change has made weather patterns unpredictable. Farmers, in response, have had to adapt, sometimes shifting planting dates or even changing the type of crops they grow. Similarly, in business, market dynamics can shift rapidly. A report by McKinsey highlighted how top-performing companies are five times more likely to proactively adapt their business models in response to external market shifts. Being adaptable ensures survival and growth.
3. Continuous Learning: The Key to Evolution
Farmers often attend agricultural fairs, read up on the latest farming techniques, and even collaborate with agricultural universities. This thirst for knowledge ensures better yields. In the same vein, a survey by LinkedIn found that 94% of employees would stay longer at a company if it invested in their learning. Whether you're an entrepreneur or someone climbing the corporate ladder, continuous learning sets you apart. Think like a farmer!
4. Building a Strong Foundation
Soil health is paramount in farming. A report by the Food and Agriculture Organization emphasized the direct correlation between soil health and crop yield. Similarly, in business, the foundation is the organizational culture, team well-being, and core values. Companies with a strong organizational culture have seen a 4x increase in revenue growth, according to a study by Forbes.
5. Preparing for the Unexpected
Farmers store surplus grain, preparing for unforeseen challenges. The economic downturn caused by global events like the COVID-19 pandemic emphasized the importance of businesses having a financial buffer. A survey by the U.S. Chamber of Commerce found that businesses with a financial contingency plan were 2.5 times more likely to weather economic downturns.
6. Proactive Problem-Solving: Think like a farmer!
Pest infestations can decimate crops. Farmers, therefore, monitor fields regularly. In business, this translates to anticipating challenges and addressing them head-on. According to a study by the Harvard Business Review, companies that adopted proactive problem-solving strategies were 45% more likely to report a significant market share over their competitors. Whether it's addressing a potential operational hiccup or mitigating risks, being proactive can be the difference between success and failure.
7. Anticipating Trends and Strategizing
Farmers rely heavily on weather forecasts to plan their sowing and harvesting. In the business realm, this is akin to market trend analysis. A report by Accenture highlighted that 79% of executives believe that industry boundaries will dramatically blur as platforms reshape industries into interconnected ecosystems. By staying ahead of industry trends and shifts, businesses can position themselves as market leaders.
8. Safeguarding Assets
Farmers use scarecrows, fences, and even technology to protect their crops. In the digital age, businesses must safeguard their assets, be it intellectual property, data, or even their brand reputation. Cybersecurity Ventures predicts that by 2025, cybercrime will cost businesses over $10.5 trillion annually. Ensuring robust security measures is no longer optional; it's a necessity.
9. The Consistency Principle
Farmers maintain a consistent routine, waking up at dawn and following a set schedule. This discipline is mirrored in successful businesses. A study by the University of Notre Dame found that companies that maintained consistent business practices and strategies over the long term outperformed their peers by 30%.
10. Making Wise Investments
Modern farming is not just about manual labor; it's about leveraging technology. Drones, AI-driven analytics, and precision farming are revolutionizing agriculture. Similarly, businesses that invest in the right tools, technology, and people position themselves for exponential growth. According to Gartner, companies that adopted AI technology witnessed a 19% increase in profitability on average.
Incorporating Real-Life Examples
Consider the story of John, a farmer from Nebraska, who faced consecutive drought years. Instead of giving up, he diversified, investing in drought-resistant crop varieties and modern irrigation systems. His yields not only improved but became more consistent year after year. Similarly, Nokia, once a giant in the mobile phone industry, failed to adapt to the smartphone revolution initially. However, by pivoting and focusing on telecommunications infrastructure, they found a new and profitable path.
Conclusion: Think like a farmer
The parallels between farming and the world of entrepreneurship are striking and insightful. They remind us that beneath the hustle and bustle of our modern lives, there are age-old principles that remain ever relevant. These principles, rooted in the rhythm of nature and the wisdom of generations of farmers, offer a roadmap to navigate the complex terrains of business and life.
The farm, with its cycles of sowing and reaping, embodies the essence of perseverance, adaptability, and foresight. It's a testament to the fact that success, whether in agriculture or in the boardroom, is not just about hard work but also about working smart, anticipating challenges, and continuously evolving.
Consider the tech giants of today, like Apple or Amazon. Their journey to success wasn't linear. Much like a farmer who faces unpredictable weather patterns, these companies faced market challenges, competition, and evolving consumer preferences. Yet, by adhering to principles similar to those practiced in farming—patience, adaptability, continuous learning, and proactive problem-solving—they not only survived but thrived.
For Entrepreneurs
For every entrepreneur, business leader, or individual charting their path, the farm offers invaluable lessons. It serves as a reminder that challenges are inevitable, but with the right approach, they can be transformed into opportunities. It emphasizes the importance of laying a strong foundation, being consistent in efforts, and always being prepared to pivot when necessary.
In a world that's rapidly changing, where technology evolves by the minute and market dynamics shift overnight, the timeless wisdom of farming stands as a beacon, guiding us towards sustainable success and fulfillment. As we move forward, let's carry with us the lessons from the fields, blending them with modern-day strategies to create a future that's not only prosperous but also deeply rooted in values and principles.
To every reader, this article is a testament to the fact that the wisdom of the past, embodied in the practices of farming, is not just relevant but crucial in today's world. Whether you're sowing seeds in the soil or in the market, remember that the principles of growth, resilience, and success remain unchanged. Embrace them, and watch your efforts bear fruit.
Author: Talal Masood | Co-Author: Chat-GPT